What is Dandruff ?
Dandruff is said to be a skin condition that is actually caused by white or gray white color of flakes of skin to appear inside your hair or on your scalp. Another name for dandruff is seborrheic dermatitis or seborrhea (bacteria), in babies, it is called cradle cap. Dandruff is not only found on the hair of a human body, but it is also found on the ankles, knee, back of your penal (ear) and your nose.
It is harmless but can cause chronic health conditions when not treated properly, also they can cause a lot of discomfort on your hair by giving you an itchy scalp, thereby resulting to injuries that are painful and most time unbearable.
In this article, we will be giving you all the necessary details about dandruff and vital tips on how to effectively treat your dandruff problems.
Below are essential information's that will help you in getting rid of dandruff.
Causes
As we all know, dandruff is commonly caused by the inappropriate way of taking good care of your hair.
It can also be caused by the overgrowth of the skin cells.
It is due to poor hygiene.
It can be caused by the overgrowth of the skin cells.
People who have certain diseases such as eczema, ringworm and some other skin diseases have the risk of getting dandruff.
Effect

It has some effect and why you should always prevent it and even if you have it you should make effort curing yourself from it.
Dandruff makes you look unhealthy.
It always keeps your hair itching you if your hair is infected.
If your hair is infected with this bacterium, it will make your hair look very old and dirty.
It is barely known that, people who have dry skin are easily prone to dandruff.
Symptoms
Lot of things can cause dandruff and the appearance comes in different forms which most times can be visible and observed by people around you.
There are different symptoms on how you should know that you are been infected by a dandruff bacteria (seborrheic dermatitis or seborrhea) inside your body.
The symptoms are:
Margins.
Eczema around the ear region, nose and body.
Dry scalp
Itching scalp
Unpleasant odor
Eyebrow riches
Breaking of hair
Dead dry skin
Whitish flakes
Bread rash
Chest rash and reddish sport
Dandruff in adults
Dandruff is very capable of affecting adult from a particular age (age of 11 and abovef). Some adult easily get prone to dandruff because of the unhealthy taking care of their hair and body. When you sharing public clippers, shaving blades, comb, hair brushes and making use of dirty body towels. Theses cause dandruff both on your body and hair.
How to treat dandruff ?

Dandruff can actually be treated or cured by the used of antidandruff, cleanser, anti inflammatory creams, shampoos and lotions. Dandruff is mostly treated by mixing different effective dermatologic treatments combined together. Shampoo is recommended in removing dandruff.
Routine for melding dandruff
Always wash your hair with shampoo at least two times daily
After washing with shampoo, make application of antidandruff hair cream to kill the bacteria on your scalp.
Always make use of dry and clean towels or hair dryer if available after bathing
Rub fluocinonide solution once or two times a day on your scalp to stop itching skin
Cradle cap in babies / adults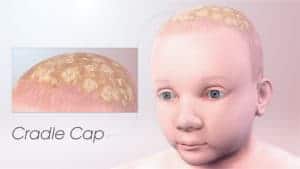 Cardle cap in babies/ adults can be so irritating and uncomfortable on them because they are helpless and can't handle the discomfort they get from the itches on their scalp caused by dandruff.
Most parents mistake dandruff on their babies scalp for rushes and sometimes use the wrong product for treatment which might generate more dryness to the scalp making it to produce white flask with odor.
Cradle cap is a kind of dandruff that affects little children.
What is cradle cap in babies / adults ?
Cradle cap is a skin infection that occurs in many healthy babies and normally occurs in the first three month of age. Cradle cap causes flaking and skating around the scalp, this is caused by the overproduction of sebum added skin cells. This is as a result of high level of hormones transferred from the mother of the baby at the end of her pregnancy. It is not a serious condition and it isn't harmful or painful and left alone will clear itself up within six month if you give it a helping hand.
Things you need to remove cradle cap :
You just need olive oil and soft clean brush with a baby shampoo. For more persistence cradle cap, some apple vinegar, and some cotton buds or cotton on pads.
Natural oil such as coconut or olive oil can be used to soften the areas enough to remove the flakes. About an hour before bath time, apply a liberal amount of oil to the affected area and let it sit for at least 14 to 16 minute or more.
How to get rid of cradle cap ?
Take a soft clean baby brush uses a circular motion to slowly lift the skin. You don't have to remove it all in one session. What doesn't come off with a few light strokes can be taken care of on baby's next wash day using a small amount of shampoo, gently massage into the scalp and then rent.
Apply a small amount of olive oil on the hair and scalp to finish here, a before or after. When all the cradle cap is removed, sometimes it can be more persistence. Dilute some apple cider vinegar with water than using either a cotton bud or cotton wool pad then apply it to the small area that is still affected. When rubbing it on your baby, be careful less in runs into your baby's eye.
You can again apply it prior to your baby's night time bath and wash it out by morning, the smell would fade off. After applying these treatments, the cradle cap would be permanently removed.
Summary
Dandruff is a harmless infection that can easily be treated only when proper attention is given to it. There are so many anti-dandruff products in the market that are made of strong regents that can absolutely handle any bacteria or fungi that can cause dandruff.
Remember dandruff is not a life threatening infection that can result to a chronic condition both in males, females, and babies. So don't be scared if you notice any of the above listed symptoms of dandruff on any part of your body with hair, all you need to do is to get some of the best anti-dandruff products from any of the anti-dandruff shampoos that are effective and efficient enough to destroy the fungi / bacteria's causing the dandruff.
We will be updating you on the best anti-dandruff shampoos and other products that are best for all hair and skins textures.